2021 Jeep Gladiator vs. Ford Bronco in Penticton, BC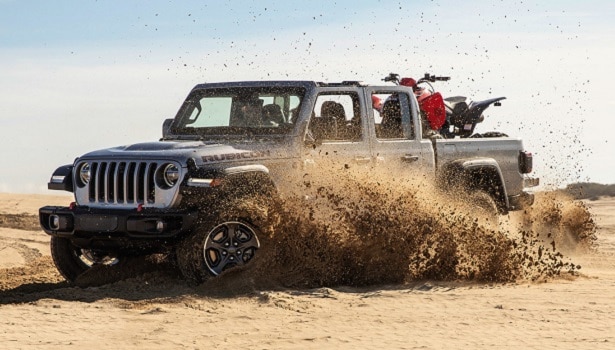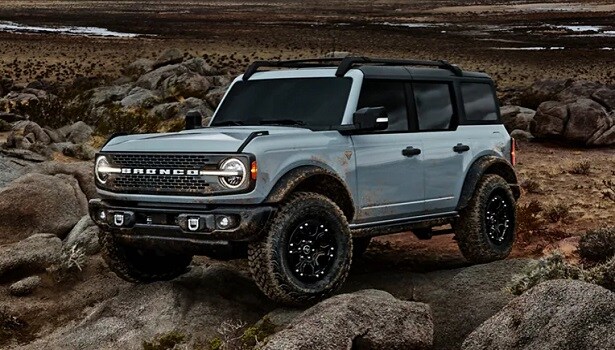 Comparing the 2021 Jeep Gladiator vs. the New Ford Bronco with Parker's Chrysler Dodge Jeep in Penticton, BC
Since the 2021 Jeep Gladiator and Ford Bronco have long been two of the most popular vehicles in their respective categories, we at Parker's Chrysler Dodge Jeep thought it only right to compare them. Yes, the former is a pickup truck and the latter an SUV, but these two automotive staples make worthy adversaries in a variety of areas, and our dealership is happy to impart the verdict to our customers in Penticton, BC and the nearby areas of Kelowna, Vernon, and Summerland. Contact us today for a closer look at where the 2021 Jeep Gladiator shines.
Power and Performance: The Edge Lies with the Pickup
The 2021 Jeep Gladiator and Ford Bronco may look rugged on the outside, but their respective engines and drivetrains tell a more intricate story. Both vehicles offer a couple of motor options and riveting 4x4 drive systems, but when examining their base engines, the 2021 Gladiator gets the nod. With a 3.6-litre V6 motor resting under its hood, the Jeep Gladiator packs a solid 285 horses with 260 lb-ft of torque, while the Ford Bronco's 2.3-litre, inline-4 engine is good for 270 horsepower. Off-roading enthusiasts will rejoice at the 2021 Gladiator's 6-speed manual transmission, although an 8-speed automatic is available in tandem with the lauded 3-litre EcoDiesel engine. The 2021 Ford Bronco also offers a 10-speed automatic transmission option, although reviews have criticized its volatility.
Where the 2021 Jeep Gladiator really separates itself from the Ford Bronco is its towing capacity. Indeed, the new Gladiator's capabilities in this department easily eclipse those of the Bronco, no matter which engine is powering it. The Gladiator's EcoDiesel motor bests the Bronco's 3.500-pound capacity by a whopping 3,000, while its base engine yields more than double with up to 7,560 pounds. In other words, if pure brawn is what you're looking for in your off-road vehicle, the 2021 Jeep Gladiator has it in spades. Feel free to get in touch with our dealership for further details on our new Jeep inventory.
Sales Hours
Monday

8:00am-6:00pm

Tuesday

8:00am-6:00pm

Wednesday

8:00am-6:00pm

Thursday

8:00am-6:00pm

Friday

8:00am-6:00pm

Saturday

8:00am-5:00pm
2021 Jeep Gladiator Interior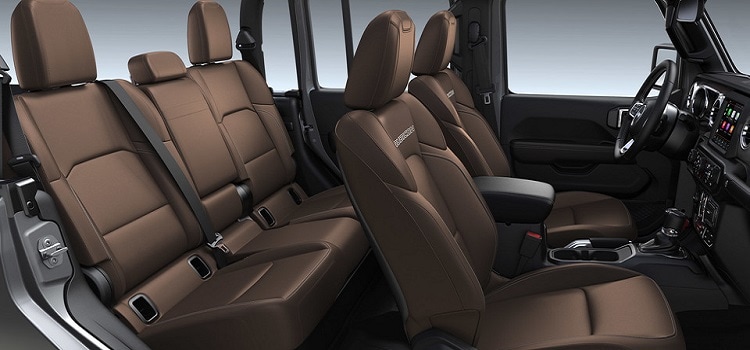 2021 Ford Bronco Interior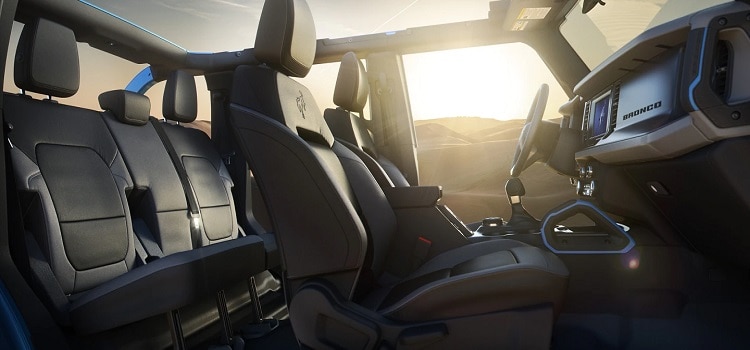 The 2021 Jeep Gladiator's Interior Offers Greater Opportunity for Personalization
If options are a great problem to have, then the 2021 Jeep Gladiator bests the Ford Bronco handily. Yes, the Bronco is available in both two- and four-door options, but the new Gladiator's inside can be personalized as thoroughly as its outside. Not only does the Gladiator truck comfortably seat five and offer ample interior storage space, but its cabin is also available in a variety of colours and materials for you to truly make it yours.
As far as tech is concerned, the Jeep Gladiator keeps you connected in more ways than one with available Bluetooth compatibility, a Uconnect infotainment system with an 8.4-inch touchscreen and a customizable 7-inch in-cluster display that keeps you abreast of everything worth knowing about the Gladiator's performance. The 2021 Bronco, on the other hand, offers little in the tech department beyond standard USB charging ports and an 8-inch touchscreen for easy access to infotainment settings.
Which Vehicle is Best Suited for Off-Roading?
Both these beloved vehicles are often measured by their off-road capabilities above all else, and choosing a victor between them remains a tall order. For starters, the Jeep Gladiator and Ford Bronco both boast exceptional ground clearance for optimal navigation across rocky or wooded terrain, and the latter certainly doesn't want for torque. But while these adversaries have both been lauded for such prowess, the Jeep Gladiator is cited among the best off-road vehicles in Canada for a reason - more than one, in fact.
For one, since it's a pickup, the Gladiator boasts an excellent payload, one absent from the Ford Bronco, given that it's an SUV. Furthermore, the 2021 Gladiator comes with standard electronic front and rear locking differentials that maintain maximum traction on any terrain, making its base model better suited for off-roading as is than the Bronco. Lastly, the Gladiator's myriad alterations and accessories - including removable doors and a folding windshield - make it arguably the most adaptable vehicle for off-roading on the Canadian market.
If you'd like to make the 2021 Jeep Gladiator yours, our finance department will gladly have you off-roading in no time.
Jeep Gladiator Inventory in Penticton, BC