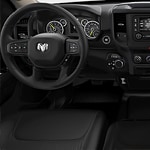 The new Ram 1500 is a popular light-duty pickup truck that is built for capability and endurance in mind. Whether you are a busy farmer or rancher or someone who simply needs a pickup truck built for towing, you can enjoy knowing that your new Ram 1500 can tow more than 12,000 pounds easily. You can hitch up and tow a horse trailer, fifth wheel, or boat behind your truck without any problem.
It also has a built-in digital navigation system that you can access at your fingertips. It displays on the truck's bright and easy-to-use eight-inch LED screen. You can put in the address or location of any destination and be guided there easily thanks to this navigation technology.
When you want to see what capability features come with the new Ram 1500, you need to drive it for yourself. Take one out for a test spin today.