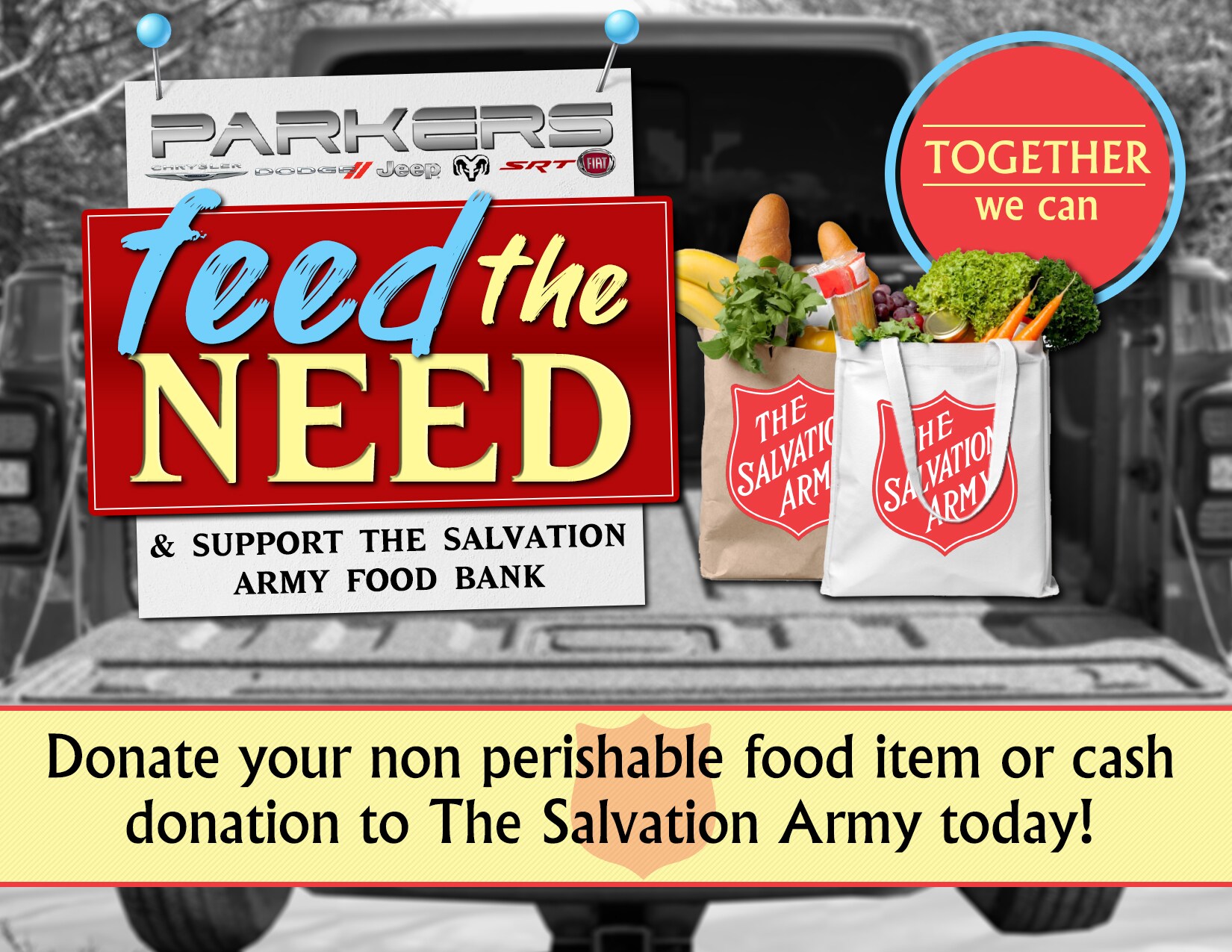 Did you know BC Food banks help over 80,000 people each month with 1 in 3 of these being a child!

Help us Feed the Need in the South Okanagan

Bring down a non-perishable donation and enter to win great prizes including;

1. $500 off your next vehicle purchase (new or used)

2. $200 service credit

3. A detail package for your vehicle (value $179)

OR join us in raising much needed funds for the food bank;

Bring down a cash or cheque (made out to the Salvation Army Food Bank) and Parkers Chrysler with MATCH all donations up to $1000!!

Together we can!

Parker's Chrysler is helping to Feed the Need in Penticton this holiday season and so can you!

"This can be a difficult time of year for many, so we have decided to support the Salvation Army Food Bank with donations of non-perishable items and monetary donations, states Jim Tabler, General Manager of Parker's Chrysler.

The team at Parkers is hoping to rally support in the community and are offering an opportunity to win some great prizes with your donation.

Drop on down to Parker's at 1765 Main Street between November 15 to December 15 with your non-perishable donation and you can enter to win one of three great prizes! Five hundred dollars cash off your next vehicle purchase, a two-hundred-dollar service credit or a detail package worth one hundred and seventy-nine dollars!

"We are excited about this community drive and are also hoping to raise some much-needed monetary donations. Bring your cash or cheque for the Salvation Army to Parkers and we are going to match all donations up to $1000," mentioned Tabler.

The team is hoping to raise at least $2000 and a Jeep Gladiator truck full of food to support those in need in our community.

For more information on how you can help, connect with the team at Parkers or call the Salvation Army to find out more about needed items this holiday season.