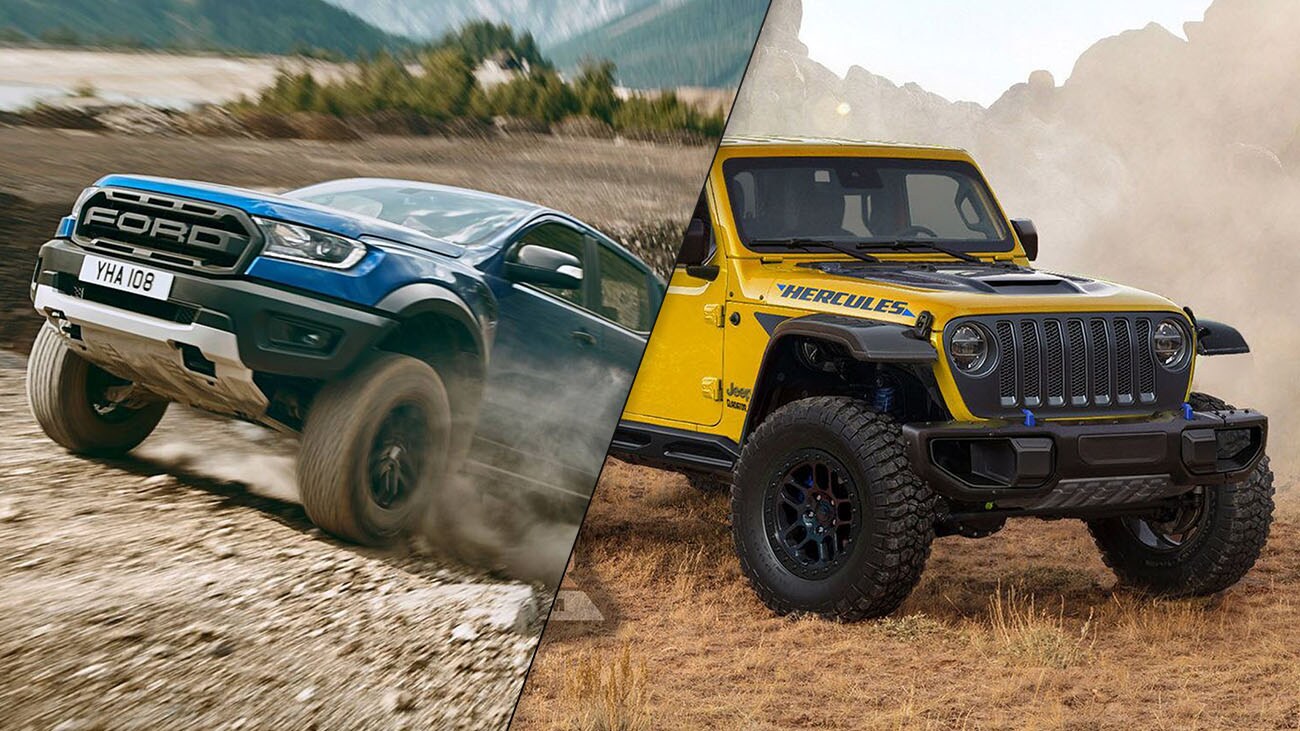 The big Jeep design head, Mark Allen has been hinting for a while about a more involved, exciting and powerful model of Jeep. Also mentioning that it would have a high speed, off-road extension of the current Jeep family. Whether or not this rumor specifically refers to the Jeep Gladiator is yet unknown.
The rumor mill has been churning. Information on the concept "Jeep Gladiator Hercules" is rather scarce but here's what we can surmise;
- The current 3.6 litre Pentastar V6 is probably going to be switched out. We think that a newer, more powerful version will have to do better than the Pentastar V6's performance and power.
- We've heard that there may be an updated 3.6L Pentastar that Jeep has been running in some of their test vehicles.
- There are a few different renditions out there on the internet, but nothing official as of yet. Its assumed that the Jeep Hercules will be modeled after the Gladiator but with a beefier, heavier and all around more aggressive design. Perhaps a factory lift kit and bigger tires. The render from Jeep Gladiator Forums show a great idea for decaling the 'Hercules' name on the hood of the Jeep Gladiator.
- Its main competition will most likely be other smaller trucks with a wilder side, such as the Ford Raptor.
- We've seen other Wranglers that have been custom built with a 6.4L, V8 – so we know that physically fits.
- Jeep also has a large catalogue of engines already built and tested – such as the Hemi line. This would be a unique pairing, to get a Jeep with a factory built hemi engine in it.

It's fun to see that that Jeep might be trying to combat the Raptor in its niche segment. There's not much out there quite like it. It's a small sized truck but the twin-turbocharged 3.5L V6 (450 horsepower) coupled with a 10-speed transmission. However, the high price tag also makes it unique. If this is what Jeep plans on combating, you can expect to see specifications that match or most likely beat those.

Jeep Gladiator is impressive on its own. Even the base model has lots to offer a fan of Jeep or the small truck segment at an inviting price. Here are some great features of the current Jeep Gladiator;
- Maximum towing power; 3,470 KG (7,650 lbs). Jeep Gladiator's towing capabilities make it ideal for a truck owner that wants to be able to tow his or her boat, RV, trailer etc.
- Maximum payload of up to 765 KG (1,600 lbs). Also available; roll up tonneau cover and a 115-volt outlet in the box.
- Outfitted with the trusty and thoroughly tested 3.6L Pentastar VVT V6 engine with engine stop start technology that can be paired with either a 6-speed manual transmission or a 8-speed automatic transmission.
- The current 3.6L Pentastar gives Jeep 285 horsepower.
- Lastly, it's the only truck with a completely removable roof. Mimicked from the Jeep Wrangler's removable panel
- We already have been told that a 3.0L diesel model is coming, most likely within the 2021 model year. We're still waiting on specific specification on that one.

If you're looking for something that's rugged and a little more powerful, consider the RAM 1500 Rebel. With the all-powerful Hemi V8 engine, you'll have no problem towing your toys around.

From our research, and from what you've read – there's no short of rumors flying around about the new tough Jeep. Whether or not, it is in fact called the Jeep Hercules or whether it's going to be built from the Jeep Gladiator, Jeep New Wrangler JL, Jeep Compass, Jeep Grand Cherokee or Jeep Cherokee is anyone's guess. But its fun to speculate sometimes. Hopefully the Jeep bosses won't keep us waiting too long.